How to Pick the Right Material for Any Stone Features In your Home
Choosing the right stone for your home features is an important decision that can affect the overall look and feel of your space. With so many options available, it can be overwhelming to pick the best stone for your Countertops, Backsplashes, Bathroom Vanities, Outdoor Patios, or any other stone feature. We will be discussing the many options of stone that can be used around the house and which one is the best fit for your lifestyle and your type of style when it comes to designing. Popular stones to choose from at Select Surfaces Chicago are Quartz, Granite, Quartzite, Marble, Porcelain and Dekton. We will be discussing all these stones in detail helping you make the right decision for you and your home.
Granite:
Granite is a natural stone that is quarried from the earth. It is a highly durable material that is a 6-7 on the Mohs scale which means it's very resistant to scratches and it does well with heat. With granite being a natural stone, every color will be different when it comes to heat resistance and staining. Meaning that yes, the heat resistance is good, but we do not recommend putting a hot pan on the granite and we recommend using a cutting board or trivet to help keep the hot pot from directly touching the countertop. However, granite is porous, which means it can absorb liquids and cause stains if not properly sealed. Maintaining its resistance to stains requires periodic sealing.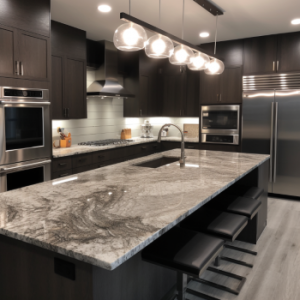 Granite comes in a wide range of colors and patterns. One of the bigger characteristics of granite is the grainy look to it. Being one of the oldest rocks known to being used for design, making it a popular choice for kitchen countertops, bathroom vanities, and outdoor patios. To clean it is recommended to use a low PH balanced natural cleaner.

Quartz:
Quartz is an engineered stone that is made from natural quartz crystals and resin. Over the last couple years, it has become the most popular stone for countertops and vanities due to its low maintenance. It is highly durable, being given a 7 out of 10 on the Mohs scale making it very hard to scratch and chip. If you were to take a hammer and smash the countertop it will cause damage to the quartz and not be covered under most companies' warrantee. Quartz is heat resistant, but again we still do not recommend directly putting something that is too hot for your hands onto the countertop. Trivets, Coasters, cutting boards are still recommend being placed. There is a risk of scorching the material with direct heat onto countertops. Quartz is also non-porous unlike granite, meaning there is no need to seal it and making it very hard to stain.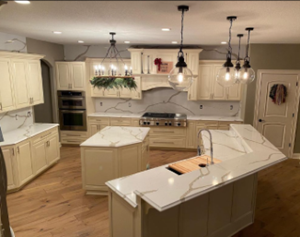 Quartz also comes in a wide range of colors and patterns, including those that mimic the look of natural stone. Quartz comes in more constant colors and patterns as they are engineered. Meaning having big project completed the veining can be matched exactly. Quartz is a lot easier to maintain than any natural stone due to being non-porous and not sealing needed, just making sure you wipe the stain off and do not just leave it sitting and you have a stone that is very easy to maintain for years and years to come.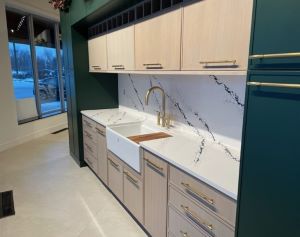 Quartzite:
Quartzite is a natural stone that is formed by quartz sandstone. From there the sandstone naturally over a long period of time through pressure and heat the formation turns into quartzite. Quartzite is similar in appearance to marble but has the durability of quartz. The Mohs Hardness scale on quartzite is about a 7. This gives the aesthetic and exoticness of marble present, but the durability and resistance are significantly more than marble. With Quartzite being a natural stone, each color will be different when it comes to heat resistance, and it is always recommended to use something to stop direct heat from hitting the countertops.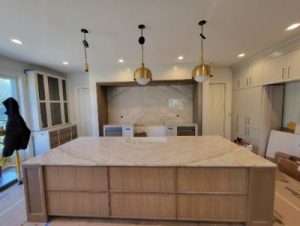 As stated, before quartzite being a natural stone making it porous which has some maintenance to quartzite like, sealing should be done periodically it will give it the toughness of keeping stains is out. Like quartz, quartzite is gaining popularity due to the lower maintenance needed and the longevity of being used compared to marble. Quartzite can be used anywhere around the house like your kitchen and bathroom and can be used outside but overtime loses its look due to the sun.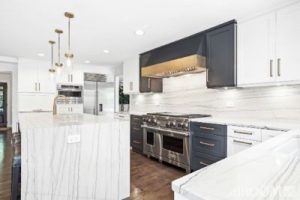 Marble:
Marble is a natural stone that is known for its elegant and timeless look. It is a soft stone that is susceptible to scratches and stains, so it's not recommended for high-traffic areas. Marble is given a 3 on the Mohs scale which is quite weak. Marble is advised to be sealed at least once a year, if not more because of how porous it is, but even with sealing it still has a very high chance of staining or etching. Sealing doesn't protect the marble from etching, only from staining. Just like every stone it has good heat resistance, but still does not mean putting anything that is hot onto the marble directly.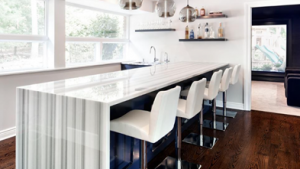 Marble is a high maintenance choice as it requires cleaning due to easy staining, and how often you may have to seal your countertops. Marble can be used anywhere in your home, but as stated before it is better to keep it away from high-traffic areas, as chips and scratches can occur quickly. Ideas of using it for master bedrooms and bathrooms, that are not seen by as many people are the best choice. Fireplaces are another great choice as you show off their elegance. Some people do enjoy the natural look of marble and how it looks overtime due to etching scratches and use overtime. Marble is a great choice for luxury and elegance, meaning it does come at a higher price than most other natural and manmade stones.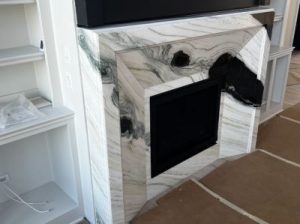 Porcelain:
Porcelain is a highly durable material that is manmade from a mixture of clay, feldspar, and other raw materials. Then it is heated at very high temperatures to make porcelain. Throughout the process this makes it very dense. The Mohs scale for Porcelain is roughly 7 as it varies depending on the type of finished used. The density of porcelain creates it to be non-porous which makes it low maintenance as it does not have to be sealed. Porcelain is resistant to scratches, stains, and heat.
Porcelain is unique for its way of how the color and pattern are made. It is only the top layer that is colored and comes in a variety of colors and patterns that try to clone natural rock formation. The only downside to this is that edge profiles are very limited due to the pattern being limited to the top layer of the slab.
Porcelain is good around the house for its durability and resistance to many elements, but the best thing about porcelain is that works great for outdoor kitchen areas. Why? Because porcelain has a very high tolerance to ultra color light from the sun making the color of your outdoor slab maintain the color without losing much of the color.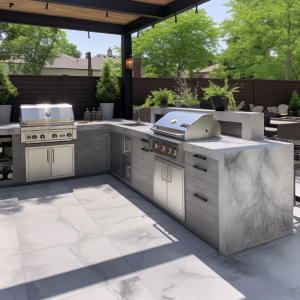 Dekton:
Dekton and Porcelain are very similar to one another, but there is a difference between them. Dekton is an ultra-compact surface that is made from a blend of many raw materials. For example, glass and quartz are some of the raw materials used in Dekton. Dekton is heated at extreme temperatures and pressed under 25,000 tons of pressure to create it. This gives Dekton almost an 8 on the Mohs scale showing on resistant and hard it is.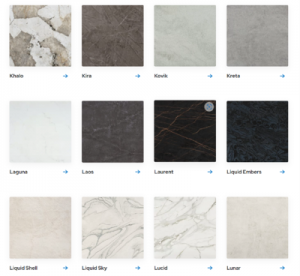 Therefore, it is a highly durable non-porous material that is resistant to scratches, stains, and heat. It is a great choice if you do not want to do a lot of maintenance as it is so non-porous. The process of creating Dekton gives it so many strengths and durability making it a great fit for high-traffic areas.
It is a great choice for many indoor features, like your kitchen, bathroom, living room, fireplace, backsplash. The best part about Dekton is that it is UV resistant meaning overtime when used outside Dekton keeps its colors and does not lose its fade.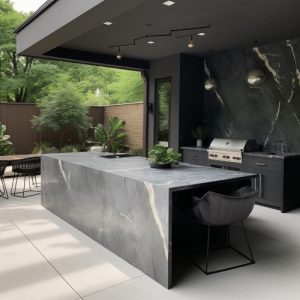 When choosing the best stone for your home features, there are several factors to consider. Including your lifestyle, budget, and the specific needs of your space. Consider how you will be using the space, how often it will be used, and the level of maintenance required. Also, keep in mind the natural stones like granite, quartzite, and marble will have natural variations and unique patterns, while engineered stones like quartz and porcelain can offer and more uniform look.